Holidays in Umbria: discover the beauties of the area
Holidays in Umbria: between unspoiled nature and historic villages
If you choose to spend your holidays in Umbria it is because you are a nature lover and want to visit a region rich in history and culture..
The area surrounding I Casali di Colle San Paolo is mainly characterized by hills, which create a spectacle of colors in every season of the year.
Umbria is the greenest region of Italy, with breathtaking landscapes. The ancient cities of Assisi and Perugia are fascinating to visit and have much to offer the art and history lover.
Umbria is the region that contains a large number of works of art and medieval architecture in Italy and where you can admire breathtaking landscapes and visit places with a long history, Perugia and Assisi.
Umbria is the Italian region that intrigues visitors with its wild and beautiful countryside, also full of small historic villages. A holiday in Umbria will give you many reasons to slow down from the frenetic daily life and enjoy yourself.
Umbria is a small region in central Italy.
It has been recognized as one of the most beautiful areas in Europe and has been classified in seventh place in the list drawn up by the New York Times (here you can read a "special" dedicated to Panicale, the municipality where Colle San Paolo is located).
In this review we read that Umbria is "rich in ancient hill towns and medieval villages".
One thing that makes this region so attractive is its climate. The climate tends to be mild throughout the year, with hot summers and cool winters.
What to see in Umbria
Of course, Umbria isn't limited to medieval architecture and UNESCO World Heritage Sites.
The region also has a lively city life, both in the main towns and in the small historic villages, offering the visitor a unique atmosphere.
Assisi: Birthplace of St. Francis, who founded the Franciscan Order in 1209 and left his mark on the city with churches such as the Basilica of San Francesco. A visit here is an opportunity to see some incredible frescoes by Giotto (1304-1337), considered one of the most important artists of medieval Italy.
Orvieto: This walled city sits atop a hill overlooking Lake Trasimeno. With its steep streets that climb up to the walls and towers of the castle, Orvieto has been featured in many films and countless postcards!
Perugia: Perugia is known as "the capital" because it hosts both the university campus and government offices; however, it also offers several museums filled with artifacts ranging from Etruscan times to today's modern art exhibits!
Spoleto: Another walled city nestled in hills filled with vineyards (many of which produce award-winning wines!) where visitors can get lost in the narrow cobbled streets lined with shops selling everything from handmade wooden toys to local cheeses!
Panicale: historic and picturesque town (7 km from I Casali di Colle San Paolo, perched on the top of a ridge at 441 m a.s.l. owes its appearance to its medieval origins, of which it still retains all the structural and architectural characteristics today. The plan of the country in concentric circles represents one of the most advanced systems of military defense at successive levels typical of the medieval era.
Lake Trasimeno: the fourth largest lake in Italy represents a territory with a rich fauna and a series of small historic villages to visit one by one due to their specificities: Città della Pieve, Paciano, Castiglione del Lago, Passignano sul Trasimeno and others villages will accompany you along the perimeter path of the lake, giving you suggestive glimpses and views

Holidays in Umbria: a journey to discover an area that is still little known
We are happy to talk about holidays in Umbria, not only because our structure I Casali di Colle San Paolo is located in Umbria, on the hills bordering Tuscany, but also because it is a little-known region and yet to be discovered.
Holidays in Umbria: relaxation
Imagine yourself in a swimming pool at sunset among hills, valleys and woods, with panoramic views and after a beautiful day spent visiting small medieval villages and art cities.
Here, this could be the image of your holidays in Umbria.
First of all, relaxation, because Umbria is located outside the main and chaotic classic tourist circuits: traveling in this region, which has a low population density, it is almost impossible to encounter queues and traffic jams.
Furthermore, the lifestyle of the Umbrians closely reflects the traditions and customs of a regional culture that is still very strong.
Lengthened times, desire for relationships, self-prepared food and often with products grown in their own gardens or on local farms represent a lifestyle anchored in habits and much loved by tourists and guests who know this region.
Holidays in Umbria: let yourself be carried away "out of the world"
Spending your holidays in Umbria in complete relaxation also means staying in agritourism facilities like ours that seem a bit out of this world.
Anyone who has had the opportunity to spend a week in one of our holiday homes in Umbria, for example, will certainly have traveled a few kilometers in the hills, sometimes on unpaved roads, to reach the Casali Molinella, Poderaccio or Fontanelle
From there he will have been able to enjoy complete tranquility and relaxation, surrounded by olive groves and oak woods, with panoramic views of the surrounding nature (but only 10 minutes by car from the nearest town!).Molinella, Poderaccio o Fontanelle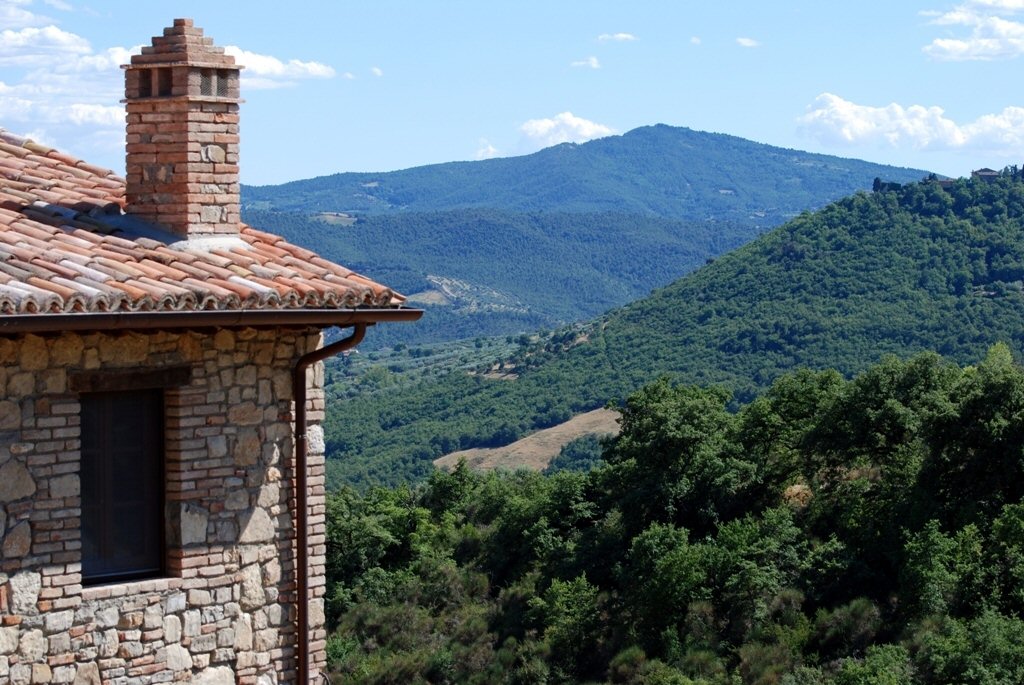 Holidays in Umbria: unique landscapes
Spending your holidays in Umbria means being able to enjoy unique landscapes, in the broadest sense of the word (I Casali di Colle San Paolo is a typical farmhouse in Umbria)
In fact, nestled among hills, woods and valleys, you can find small villages and towns with historic centers dating back to the medieval period, some with finds and monuments from the Etruscan or Roman age.
These villages and cities of art are rich in culture and fascinating due to their location.
From I Casali di Colle San Paolo you can easily visit the towns of Panicale, Paciano and Città della Pieve, while Perugia is about 30 minutes away by car and Assisi less than an hour.
As for the Tuscan villages and towns, however, nearby (max. 1 hour by car) we find Chiusi, Montepulciano, Cortona, Pienza and Siena.
Holidays in Umbria: the traditional village festivals
Those who decide to spend their holidays in Umbria will also find a lot of folklore linked to the traditions of the area, with popular festivals, festivals, historical re-enactments, musical and folk events.
Especially in the summer period, but in general throughout the year, each district, small community, pro loco or association organizes events and shows that best represent the history and tradition of Umbria.
Apart from the well-known events "Umbria Jazz" or "Eurochocolate", Umbria has a deep-rooted tradition of "singular duels" and medieval jousts, nativity scenes, blues and rock musical events and various other representations that recall the history of this territory.
The traditional village festivals, one for each corner of the region, allow you to taste delicious dishes and typical products of the area in the open air, in historic villages, on the hills or on the lakefront.
Among the many typical products of the area, we suggest you taste the wines of Colle del Trasimeno (such as Gamay, produced from the native vine of the same name deriving from Grenache), olive oil, the Trasimeno bean, pecorino cheese and cured meats, saffron, lake fish (with which typical dishes such as Tegamaccio or Brustico are made).

Holidays in Umbria: contact us!
If you want to spend your holidays in Umbria, do not hesitate to contact us (even through a facebook message)
Visit the Casali of Colle San Paolo by clicking on the images below