Farmhouse in Umbria: easy to book, hard to forget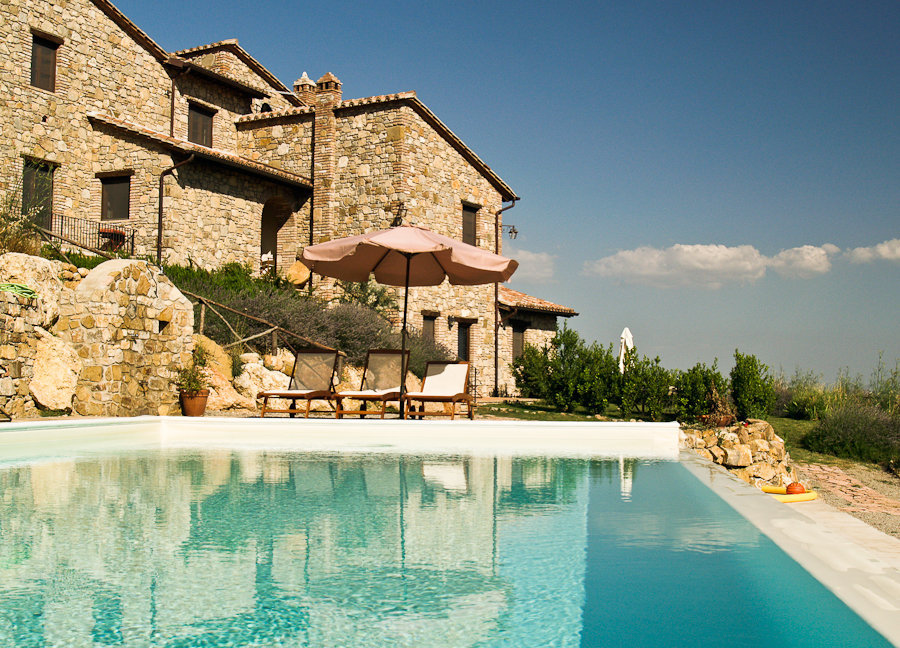 Farmhouse in Umbria: what are those looking for when deciding to spend their holidays here?
He is probably looking for relaxation in a place surrounded by nature, a farm with a typical production and a beautiful swimming pool in which to dive during the hot summer days.
Our farmhouse in Umbria – I Casali di Colle San Paolo perfectly meets these needs: it is located in an uncontaminated place, on a hill, far from inhabited centers and busy roads, on a large farm that produces organic olive oil, and it features three beautiful swimming pools with panoramic views.
Farmhouse in Umbria: between Perugia and Lake Trasimeno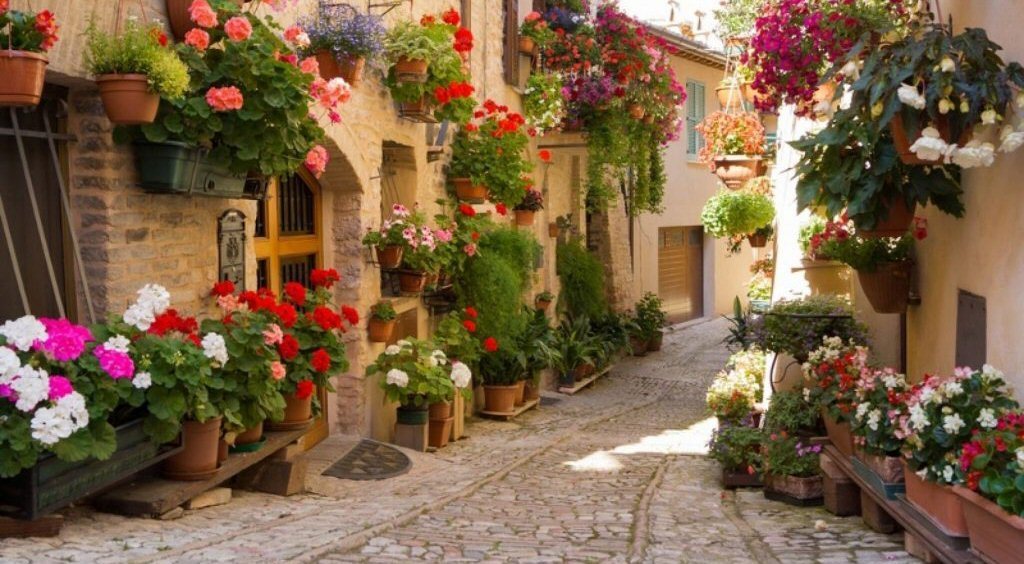 Halfway between Perugia and Lake Trasimeno, in close proximity to some of the most beautiful villages in Italy such as Panicale and Paciano, a few kilometers from Città della Pieve and the beauties of Perugia, I Casali di Colle San Paolo is an agritourism in Umbria suitable for those who want to spend their holidays in Umbria, relaxing in the countryside, but also making interesting tourist visits.
The nearby Tuscany offers the spectacle of the Sienese hills and historic villages such as Montepulciano, Pienza and Cortona, reachable in 50 minutes by car.
The fascinating and still little-discovered Umbria allows for a true and total immersion in a landscape that is often still wild and full of villages perched in the valleys.
In short, anyone wishing to spend a holiday in a farmhouse in Umbria could find in this strip of land their starting point for the discovery of many (semi) hidden treasures.
Farmhouse in Umbria: The Casali of Colle San Paolo
Our structure looks like a farmhouse in Umbria with typical characteristics and with some unique peculiarities.
Located within a large country estate of over 130 hectares of wooded and agricultural land, located at the foot of a super panoramic hill, the farmhouse in Umbria I Casali di Colle San Paolo has a total of 9 apartments and 3 Independent farmhouses, all 3 with swimming pool, very comfortable and with high-quality interiors and equipped with all comforts.
Its position allows a view over the whole valley which extends from Panicale towards Perugia and Assisi; moreover, from the top of the hill you can see the whole valley that leads to Lake Trasimeno and towards Chiusi and Città della Pieve.
Casali di Colle San Paolo is the perfect place for wonderful holidays in Umbria.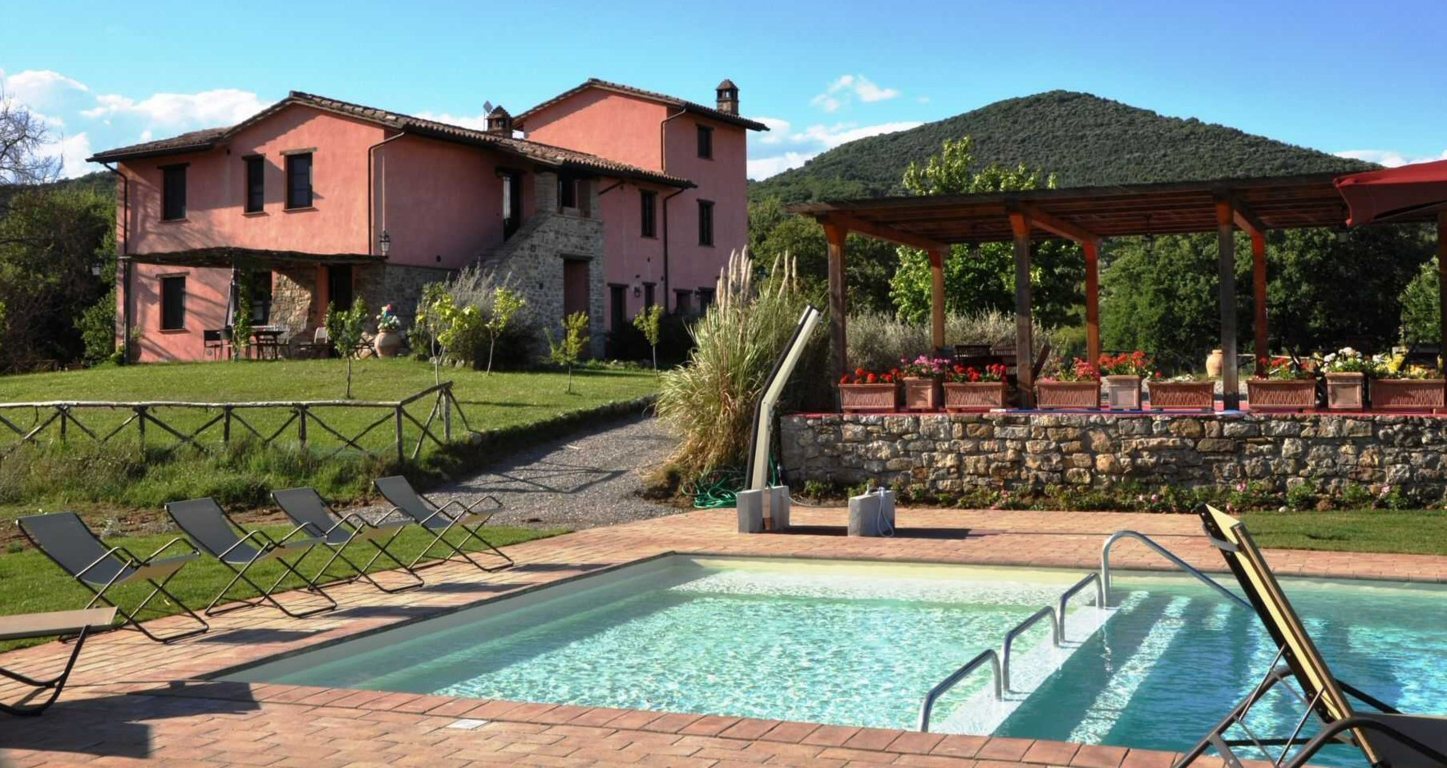 I Casali di Colle San Paolo is a place suitable for many types of people: in fact it looks like a farmhouse in Umbria for families, where parents can let their children discover the beauty of walking in the hills and in the woods (with marked paths) and at the same time let them play in the children's pool or take them to the "Città della Domenica", the amusement park in Perugia.
The Casali di Colle San Paolo: a place suitable for many needs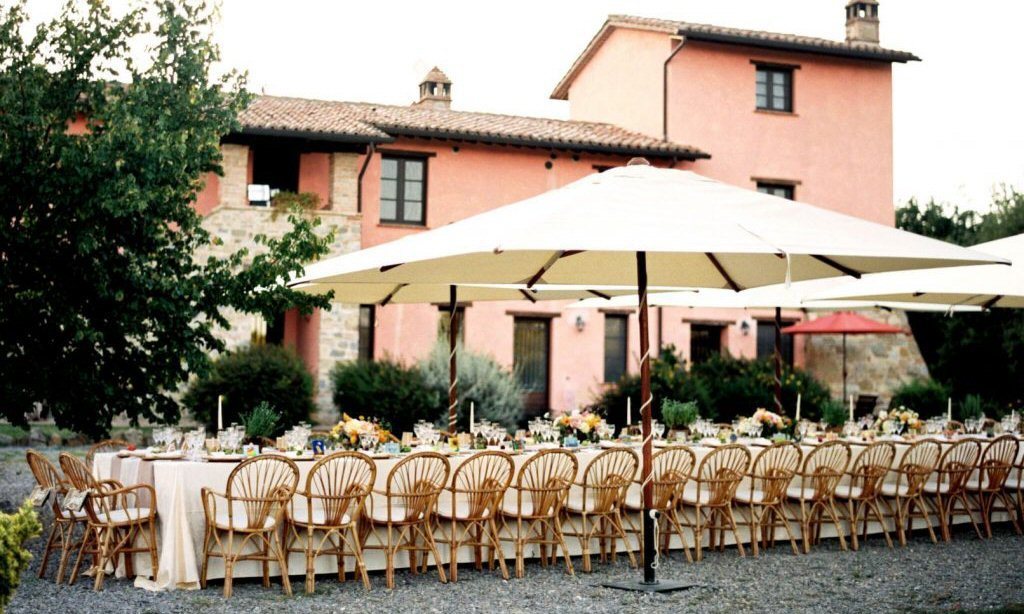 As a Farmhouse in Umbria, I Casali di Colle San Paolo is also particularly suitable for groups of families or friends who want to spend a holiday together. In fact, its subdivision into apartments gives its guests the feeling of living in a small village completely at their disposal.
The individual apartments are separated by small paths, stairways and vaults and all have an area to share (common room and terraces, with spaces for eating, relaxing, having fun and playing).
Finally, many are those who have chosen to celebrate their wedding in Umbria in a farmhouse.
The Casali di Colle San Paolo have also hosted several weddings: the structure can accommodate up to 55 people who can stay overnight for a few days, thus having the opportunity to discover the area and enjoy the relaxation of this place, surrounded by nature and far away from all kinds of confusion.
In short, all that remains is to book!!! (also through a message on facebook)
Visit the Casali of Colle San Paolo by clicking on the images below